Solutions for hospitals and laboratories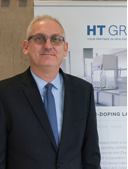 Dipl-Ing. Claus Schweinheim
The contact option is only available for registered members
About me
Since 2017 I am CTO of HT Lab Tec GmbH, a member of HT Group, having more than 25 years experience in the area BSL-3/4.

Seit 2017 bin ich Geschäftsführer der HT Lab Tec GmbH, einem Unternehmen der HT Group, und besitze über 25 Jahre Berufserfahrung für die Bereiche BSL-3/4.
Specialised in:
Installation of complete BSL-3/4 laboratories, animal enclosures, GMP-labs and isolation wards. Special know for pressure cascading systems, tightness classification and air filtration in biosafety applications.

Errichtung von komplette BSL-3/4 Laboren, Tierhaltungen, GMP-Laboren und Isolierstationen. Besondere Expertise im Bereich der Druckregelung, Dichtheitsklassifizierung und Luftfiltration in Biosicherheitseinrichtungen.